Posted in News on April 27, 2022
Whether for a will or divorce or a DUI defense, many lawyers bill by the hour, with good lawyers charging hundreds of dollars per hour. In those instances, only those with the most money can afford to hire the best lawyers.
When someone is seriously injured through no fault of their own, they often have a hard time making ends meet financially as it is- being able to come up with tens of thousands of dollars to retain a lawyer would be impossible.
What are Contingency Fees in Montana?
That's why personal injury lawyers in Montana work on a "contingency fee" basis. The "contingency" nature of the fee means that the lawyer only gets paid if they resolve the claim and obtain money for the client. If there is no recovery, the client owes nothing.
The contingency fee arrangement helps level the playing field in injury cases, and allows auto accident and personal injury victims the chance to hire the best lawyer to represent them. Almost all personal injury lawyers in Montana charge a contingency fee between 33% to 40% to handle an accident or personal injury lawsuit. Because the cost is generally the same, this gives the consumer the chance to hire the best injury lawyer to prosecute their claim.
Many people wonder why they should give such a percentage to a lawyer rather than settle their claim themselves and collect 100% of the settlement. The truth is, in a small case where the damages are only to the vehicle, or where the injuries are minor and have gone away, it is probably feasible to resolve the claim yourself and not pay for a car accident attorney. But when a person is seriously injured and has substantial damages, the reality is that injury victim will recover much more money by hiring an experienced, skillful injury lawyer.
Insurance companies have teams of adjusters and experts who are trained to pay as little as possible for an injury claim. Studies by the insurance industry tell us that, on average, injured parties who hire lawyers receive over three times more money than those who represent themselves. We have seen first-hand over the years numerous instances where a claimant was offered a very small amount of money, then hired us and we were able to obtain 5x or 10x more for them.
So, in explaining the contingency fee structure, we often use a pizza pie example. Would you rather have 100% of a small, individual pizza pie or 2/3 of an extra-large pizza pie?
The contingency fee arrangement for Montana personal injury claims is a win-win for the injury victim. Under this arrangement, it is in the lawyer's own best interests to recover as much money for the client, as quickly as possible.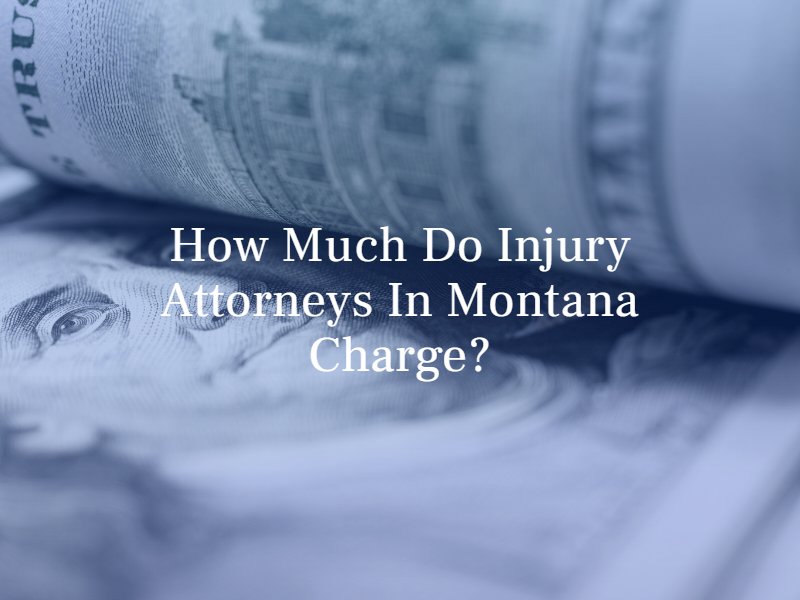 If All Injury Lawyers Charge the Same, Why Does it Matter which One You Pick?
If all lawyers charged $300 an hour for a divorce or a will, then you would pick the best lawyer because price wouldn't be a distinguishing factor. The same is true for personal injury lawyers- with price not a factor, you are free to hire the best personal injury lawyer to prosecute your claim.
Sadly, many lawyers hold themselves out as personal injury lawyers, but don't really know how to competently handle a Montana personal injury claim and maximize value for their clients. The insurance companies know who are the good injury lawyers and who are the bad ones.
Their own settlement guidelines allow them to pay up to 4x depending on whether a good lawyer is involved in the case or not. Think about that! The same person with the same injuries can get  $100,000 or $400,000 simply depending on what injury lawyer they hire to represent them!
One of the biggest factors insurance companies use to decide whether to pay more or less to an injury victim is whether their attorneys ever go to trial, and, if so, how they do. Our firm has enjoyed tremendous courtroom success in Montana, with record-setting recoveries for our clients. This means that every client we represent reaps the benefits because the insurance companies know that if they don't offer a fair settlement, we are willing and capable to take the case to trial. In deciding who to hire, one of the important things you should ask is the firm's experience in taking cases like yours to trial.