2018 has proved to be a dangerous driving year in Billings, MT. Every day thousands of people perish around the world due to preventable auto accidents – and many more suffer life-changing catastrophic injuries. The most common cause of traffic accidents is human error. Distracted, careless, and reckless drivers can cause motor-vehicle accidents from which many will never fully recover. Other car accidents stem from manufacturer error and defective vehicle products, while still others result from improper roadway maintenance. If you've recently been involved in a car accident while driving in Montana, don't wait to seek legal advice. Our Billings attorneys are available to you and provide free case evaluations to those who have been victims of a car accident injury. In addition, view our list of important driving tips to keep you safe on Montana roads throughout 2018, and beyond.
In all these cases, car accident victims have an ally in Ragain & Cook, P.C. Our Billings car accident lawyers know how to analyze a case, determine the defendant, and fight for the settlements our clients deserve. The law has a system in place to help car accident victims recover damages from responsible parties. Our lawyers have more than 40 years' experience navigating this system and helping our clients earn compensation. If you or a loved one has recently been injured in any type of motor-vehicle accident, contact our law office today to schedule a free consultation with one of our Billings car accident attorneys. We can help you.
2018 Common Causes of Car Accidents in Billings, MT
Rural Roads.
Rural roads in Montana consistently rank as some of the most likely places for drivers to suffer serious accidents. Road conditions combined with excessive speeds often lead to tragic results – over 75% of accidents nationwide occurring in rural areas. In Montana specifically, 176 of the 190 fatalities (93%), occurred in rural areas.
Texting and Driving.
Montana has no statewide law banning texting and driving, but Billings and many other municipalities have implemented their own distracted driving prohibitions. Despite texting and driving being unlawful in Billings, Montana, people still engage in this dangerous behavior every day. These drivers risk the lives of everyone around them and are guilty of negligence in the event of a car accident.
Texting and driving is a form of negligence that can make a driver legally responsible for an accident. Using a cell phone during, or immediately before, a collision is a type of evidence plaintiffs often use to prove the other driver's liability. Always pay close attention to the connection between cell phone use and a auto accident. If you have reason to believe another driver's texting contributed to your crash, speak to an accident lawyer today. An attorney can investigate the accident, obtain phone records, and defend your rights.
Texting, scrolling through social media accounts, reading emails – all of these actions compromise the ability to drive. Taking one's eyes, hands, and/or mind off driving makes it difficult to react to changing roadway situations in time to avoid a collision. Distracted driving is an epidemic around the world, growing in number as more and more people engage in texting and driving and other dangerous cell phone behaviors.
Road Debris & Weather Conditions.
A study by AAA Foundation for Traffic Safety reported that more than 200,000 vehicle crashes in the United States in the past four years were the result of road debris. Drivers swerving out of the way to avoid hitting something in the road caused 38% of road debris accidents in 2018. Swerving can both lead to a crash with another vehicle and cause you to lose control of your own vehicle.
Montana's drastic winter conditions are also a big cause for traffic safety, even several months after the season. While the city makes an effort to keep roadways safe, extreme weather conditions can lead to slipper roads and ice build-up, which can leave large chucks of ice in the middle of roads and be a dangerous for drivers on the road.
Drunk Driving Car Accidents.
When a driver gets behind the wheel while impaired by alcohol or drugs, it turns the vehicle into a lethally dangerous machine; 86 of the 190 deaths were involved in an accident where at least one of the drivers was impaired at the time of the accident. More than 50 of these fatalities involved only a single vehicle and the driver was the only occupant.
Railroad Crossing Vehicle Accidents.
Montana has dozens of major railways that cut through the state to transport goods and people. While the economy still relies on the train system, hundreds of train accidents occur every year. Trains may derail, strike other vehicles, or hit pedestrians. Many things can cause a railroad crossing accident, from a disabled vehicle on the tracks to a negligent train conductor. There are state laws that cover trains and railroads, including common carrier accidents. According to these laws, victims of railroad crossing accidents (pedestrians, train passengers, and drivers of other vehicles) have the right to sue the train engineer or company for negligence.
Ragain & Cook, P.C. has many years of experience handling claims against railroads in Montana, including personal injury or wrongful death lawsuits after railroad crossing accidents. We are familiar with state and federal common carrier safety laws and know what to look for when investigating causes of the accident. We can gain access to the train's black box, which records important evidence and represent your case with a strong foundation of facts. We serve the people of Billings and beyond who have been injured in all types of motor-vehicle accidents.
Step-by-Step: What to do after a Car Accident
Knowing what actions to take immediately after a car accident can help you stay calm and in control throughout the situation. There are certain things you should do to help yourself and improve your case if you end up filing a personal injury claim. Keep a checklist of what to do after an accident in your vehicle's glove compartment, so that in an accident you don't have to rely on your memory.
In addition, Billings car accident attorneys have compiled a list of actions you should take following a car accident to best ensure you're in the best standing after your accident. See below.
Never drive away after an accident. You have a legal duty to stay on scene and make sure everyone is okay. Even minor accidents require everyone involved to stop and assess the damages before leaving.
Prevent further harm. Do as much as you can to make the scene of the accident safe for other vehicles passing by, to avoid further collisions or a pileup. If possible, move disabled vehicles to the side of the highway. Put your emergency flashers on and set up cones or flares if you have them.
Dial 911. Call the police as soon as you are in a safe location. It is wise to always report a car crash, no matter how minor. An official police report is important for insurance claims. If anyone is injured, say so to the police.
Do not admit fault. Do not tell the other driver the accident was your fault, even if you believe it was. Wait for the police to arrive and give details to the officer. The police can help determine who may be at fault. The other driver may have been partially to blame for the crash as well, or a dangerous road condition such as a malfunctioning traffic light may be responsible.
Gather information. Record important information such as the other driver's name, contact number, insurance card, and license plate numbers. Take photos of the scene of the accident if you can, getting pictures of all vehicles involved, property damage, personal injuries, and views of the street where the accident occurred. If there are any roadside hazards such as debris in the road that may have contributed to the crash, photograph these as well.
Be as detailed as possible in your report. When the police ask you what happened, give as much detail as you can. Do not misstate facts or speculate. Stick to the truth as you know it, and explain what happened to the best of your ability. When asked if you are injured, do not say no if you are not sure. State that you need to see a medical professional to check for injuries. The more information you can relay to the officer while the crash is still fresh in your memory, the better.
Call your insurance company. Obtain a copy of the police report and call your insurance company to report the accident. Most car insurance policies require immediate accident reporting. Your insurer will give you details about your personal injury and property damage coverage. Give the number of the police report to your insurance representative.
Seek medical attention. After any car accident, visit a physician and inform him or her of what happened. Even if you don't feel injured, you may have sustained a head, brain, or spinal cord injury that has not yet shown symptoms. This is common in injuries such as concussions. Seeing a doctor right away will help if you have to file a personal injury claim. Delaying treatment can make it seem to a judge or jury that your injuries weren't serious enough to seek help.
Keep a file of car crash documents. Keep an organized file with documents related to your auto accident. This should include a copy of the official police report, information and photos you gathered from the scene, as well as medical records, treatments your doctor prescribes, and all bills relating to your accident. Keeping this information together can help the claims process run smoother.
Protect your rights. Once you've notified the police and your insurance company about the accident and received medical attention for injuries, contact a personal injury attorney. Keep the number for Ragain & Cook, P.C., on speed dial –

(406) 206-4831

. Our attorneys can help you protect your rights and make sure no one destroys valuable evidence in your case. Always seek legal advice before giving statements to insurance companies or accepting their settlement offers.
2018 Montana Statute of Limitations
According to Montana State law, an individual injured in an accident has three years from the date of a traffic accident to file a personal injury claim in Montana. Montana is a modified comparative negligence state, meaning it is possible to earn compensation even if you were partially at fault for a car wreck. This makes the process of reporting to your accident a very important step in handling your claim. Everything you report to the insurance adjuster can effect your case, so it is important you are specific, factual, and concise. For more information on common questions surrounding car accidents in Montana, visit Car Accident FAQ page or call (406) 206-4831 to speak with one of our auto accident attorneys today.
Vehicle Accident due to Road Debris?
Because another driver is not responsible in accidents involving road debris, it can be difficult determining who is liable for your damages involved in this type of car accident. If the debris is something the city government should have dealt with, they are responsible for your injury. They must clean debris from the roads in a reasonable about of time. If they breached their duty to keep the roads safe, they are at fault. If you are trying to prove the government was negligent, you need to prove they knew or should have known about the debris.
Trucking companies can be responsible for road debris accidents. If something that fell off a truck caused your accident, the trucking company may be responsible because they failed to secure their cargo adequately – failing their duty of care. In those situations, you could pursue a lawsuit against the trucking company.
If you are involved in a car accident caused by road debris, it is important to document the scene as well as you can. Take pictures of the vehicles involved, the damage inflicted, and the road debris that led to the auto accident. Be sure to see a doctor as soon as you can if you were injured. If you choose to file a lawsuit, you will need medical records or bills to serve as evidence of the injury that you suffered. If there were other people involved or witnesses, get their contact information if possible so that your attorney can contact them for statements.
2018 Drinking and Driving Montana State Laws
Every two minutes someone suffers an injury in a drunk driving accident. Every 53 minutes, someone dies. About one-third of drunk driving crashes, deaths, and injuries are caused by repeat offenders. Filing a personal injury claim against a drunk driver responsible for your crash can hold him or her responsible for reckless actions. The courts may take action to prevent the driver from repeating the offense, such as ordering a mandatory substance abuse course or ignition interlock device. A personal injury claim against a negligent drunk driver can potentially end in compensation for your injuries and prevent future accidents.
In Montana, driving under the influence (DUI) of alcohol is defined as operating a motor vehicle with a blood alcohol concentration level of 0.08% or higher. This percentage drops to 0.04% for commercial vehicle drivers, and 0.02% for drivers under the legal drinking age of 21. Yet law enforcement can charge drivers with DUI even if their blood alcohol concentration level was below the legal limit. If an officer has reason to believe alcohol or drugs have influenced the person's driving abilities, the driver may be guilty of DUI.
If you or a loved one has been in an accident involving a driver under the influence of drugs or alcohol, contact Ragain & Cook, P.C. We understand state and local DUI laws and work with experts in the field to prove the influence of alcohol if it contributed to a car accident. We can gather police reports, eyewitness testimonies, and expert opinions to help support your case. You may also be able to pursue a wrongful death claim if a loved one was killed in an accident caused by a drunk driver.
Dram Shop Laws in Montana
Montana has something called dram shop laws, which make it possible for the victim of an alcohol-related car accident to bring a personal injury claim against a third party. In certain situations, accident victims can bring a claim against the shop or private individual that provided the alcohol to the intoxicated person who caused the accident. This may be the case if:
The vendor knew the person was underage or did not make a reasonable attempt to discover the person's age and served him or her alcohol.
The vendor served alcohol to a person who was noticeably intoxicated.
The vendor forced or coerced the person into drinking an alcoholic beverage or told the person it was non-alcoholic.
In these situations, the victim of a subsequent accident with the intoxicated person may be able to hold both the driver and the vendor responsible – the driver for getting behind the wheel intoxicated, and the vendor for irresponsibly serving the person alcohol. Even social hosts at private residences may be liable if the host knew, or should have known the person was underage, or if the host forced or coerced the person into drinking. An experienced car accident lawyer can help you discover if a third party may be responsible for your drunk-driving related car accident.
Fatal Auto Accidents in Billings, Montana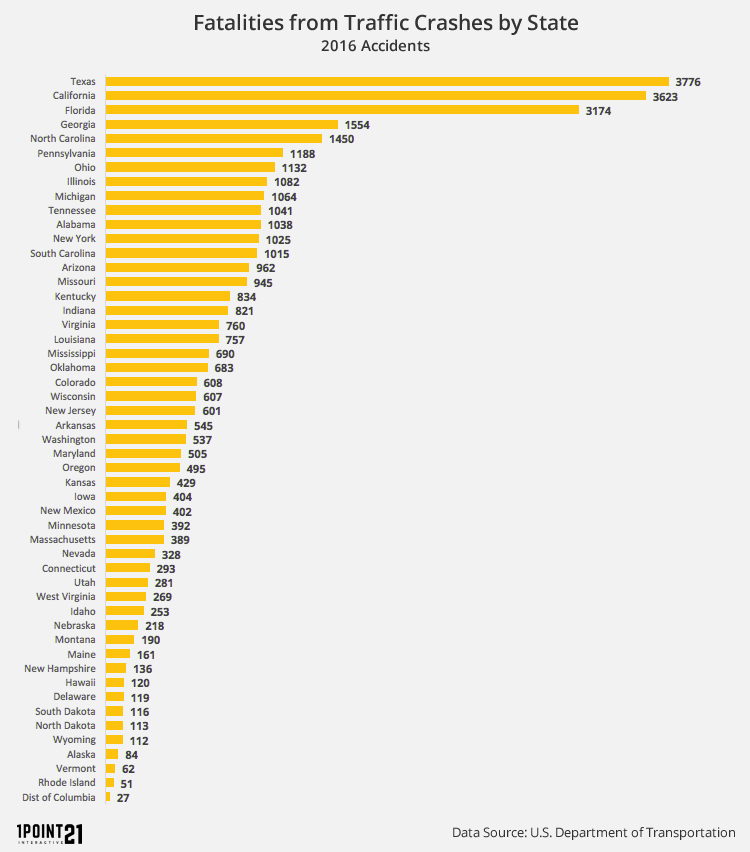 In 2018 Montana had 194 fatal car accidents reported. When compared to other states in the U.S. this number seems low, but Montana also has one of the lowest state populations. Collision data has found that some of the most dangerous intersections in Montana are found in the most populated cities including Missoula, Helena, Billings, and Great Falls.
Fatal car accident cases may take the form of wrongful death claims in the Montana civil court. A wrongful death is one in which someone's negligence has caused the death of a person. Certain people can bring these claims in Montana to pursue compensation for the person, company, or other entity responsible for the death. Wrongful death lawsuits are basically personal injury cases in which the injured person is not able to seek damages on his or her own behalf. Instead, surviving family members must do so for the deceased.
Who can file a claim after a fatal car accident in Montana?
Personal representative of the deceased person's estate.
Parents (one or both) if the deceased person was under the age of 18.
Legal guardians, if the underage decedent has no parents.
If you qualify, you have three years from the date of your loved one's death to file a claim in Billings, MT. You may be eligible to receive compensation for economic and non-economic damages such as funeral and burial expenses, your loved one's accident-related hospital bills up until the date of death, your family's mental anguish, lost value of wages and benefits, and loss of care and companionship.
At Ragain & Cook, P.C., we know a wrongful death claim cannot take back the losses incurred in a fatal car accident. It can, however, help your family move on from this terrible tragedy. Reach out to our team to see how we may be able to help you through this difficult time.
How to Protect Yourself in a Car Accident Claim
While there is little you can do about winter weather, and you may need to travel in rural areas, there are some steps you can take to protect yourself. Especially in rural areas, you may need to reduce speed to be ready for unexpected events on the road. Do not get behind the wheel if you are impaired and keep your friends from driving while impaired too.
Finally, always buckle up before you put the vehicle into drive. Taking this step alone could prevent fatalities in most crashes.
Contact a Billings Car Accident Lawyer
If you or a loved one has suffered an automobile accident or injury caused by road debris in Montana, you are likely entitled to compensation. Accidents due to road debris can be serious and do significant damage. Call Our Experienced Car Accident Attorneys today. We understand Montana's liability laws and can help you determine who was at fault for your accident and whether you should file a lawsuit. If you decide to pursue a lawsuit, we can also fight for you and do all we can to secure everything that you may need to recover from the accident.
Testimonial
"I was in a car wreck that totaled my truck, left me injured and kept me out of work. Joe jumped on my case and began working right away. He got my medical bills paid, secured a fair payment for my truck damage, and collected a great settlement from the insurance company. When my uncle and cousin were hurt in a car wreck, I had zero hesitation recommending them to Joe."  – J.S.
Resource Information: