Whitefish Personal Injury Lawyer Near Me
Sustaining an injury caused by the actions of another individual or entity can lead to significant physical and financial setbacks. At Heenan & Cook, PLLC, we are here to help if you need a Whitefish personal injury lawyer by your side. We pledge to use our resources to conduct a complete investigation into your claim, handle all communications with the other parties involved, and vigorously negotiate to recover total compensation for your losses.
Why Choose Us?
At Heenan & Cook, PLLC, our attorneys have decades of experience handling complex personal injury and litigation matters in the state of Montana.

We have recovered significant settlements and jury verdicts on behalf of injury victims throughout this state, and we know what it takes to win. 

We handle Whitefish personal injury claims on a contingency fee basis. This means that clients will pay no legal fees until after we recover the compensation they are entitled to.
How Much is My Personal Injury Claim Worth?
There is no set amount of compensation paid for a personal injury claim in Whitefish. Rather, the total compensation amount will vary depending on several factors related to each particular claim. Some of the main factors that affect injury claim compensation include the severity of the injuries, the length of a person's recovery time, whether or not an individual can work well over covering, and whether or not there was any shared fault for the incident.
Overall, the Whitefish personal injury attorneys at Heenan & Cook, PLLC work diligently to recover both economic and non-economic compensation on behalf of our clients. This includes, but is not limited to, the following:
All hospital and doctor expenses related to the injury

Medical devices and prescription medications

Physical therapy and rehabilitation

Surgical costs

Lost income

Out-of-pocket expenses

Physical pain and suffering damages

Loss of quality of life damages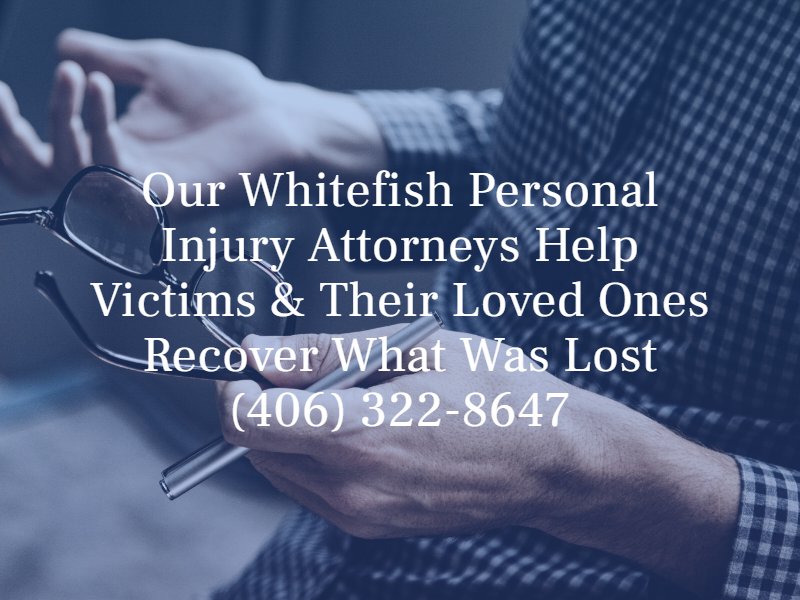 What are Common Causes of Personal Injury?
Personal injuries arise in a wide variety of ways in and around Whitefish, Montana. Anytime the careless, negligent, or intentional actions of another individual or entity lead to someone else sustaining an injury, a personal injury claim is likely the correct course of action. Some of the most common causes of personal injuries include:
Motorcycle accidents

Pedestrian and bicycle accidents

Slip and fall incidents

Premises liability incidents

Dog bite incidents

Defective products

Nursing home abuse and neglect

Medical mistakes

Physical and sexual assault
This is by no means a complete list of the ways injuries arise in our area. We encourage you to contact one of our attorneys for a free consultation of your claim so we can determine the best steps moving forward for your particular situation.
Contact a Whitefish Personal Injury Lawyer Today
If you or somebody you love has sustained an injury caused by the negligent actions of another individual or entity in the Whitefish area, reach out to an attorney as soon as possible. At Heenan & Cook, PLLC, we will handle every aspect of the claim on your behalf. This includes conducting a full investigation into the incident, gathering the evidence needed to prove viability, and handling all negotiations on your behalf. When you need a Whitefish personal injury attorney,  contact us for a free consultation of your case or by at (406) 322-8647.