Posted in Nursing Home Abuse on May 30, 2022
Many nursing homes are communities where loved ones can be provided for and kept safe. Unfortunately, our nation's elders are vulnerable to abuse. According to the National Council on Aging, about 10 percent of all Americans over the age of 60 have experienced some form of abuse. They also report that as many as 5 million elders are abused in any given year. Nursing home abuse is often a silent problem, as only 1 in every 14 cases are reported to the authorities.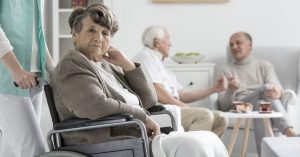 With the pandemic, instances of nursing home abuse rose as family members were prevented from checking in on loved ones. Fortunately, with things now back to normal, it is again possible to keep an eye on loved ones in nursing homes and assisted living facilities.
Here are 7 warning signs of nursing home abuse or neglect:
#1 SUDDEN OR DRAMATIC WEIGHT LOSS
If a loved one has lost significant weight over a short period of time, there may be a problem. Such weight loss can often be the result of negligent care. This is especially true when the resident has memory issues such as Alzheimer's, as it is particularly important that the facility provide cuing to make sure the resident is actually eating their meals.
#2 BEDSORES
Bedsores are a "never event" that Medicare won't pay for because they should never happen. When residents develop bedsores, it is likely an indication that they are not being moved often enough or properly cared for.
#3 POOR PERSONAL HYGIENE
Many nursing home residents lack the mental and/or physical ability to properly groom themselves, and count on the facility for assistance bathing and grooming. If a resident appears unclean or disheveled, this may be a sign of neglect.
#4  FALLS OR UNEXPLAINED PHYSICAL INJURIES
Residents generally have a care/treatment plan. This plan includes clear direction for when/how a resident should be lifted, or any other mobility issues that need to be addressed. If a resident suffers a fall or other unexplained (or badly explained by the facility) injury, this may be a sign of abuse or neglect.
#5 DEHYDRATION
Nursing home facilities may purposely undernourish or dehydrate residents to reduce the instances of bathroom trips. If a loved one appears dehydrated, this may be a sign of nursing home neglect.
#6 UNSANITARY CONDITIONS
Nursing homes are required to comply with federal and state laws pertaining to sanitary conditions. Nursing homes are responsible for making sure the environment is safe, clean and maintained in a way to reduce the possibility of infection. If you notice uncollected garbage or dirty rooms/surfaces, this may be a warning sign of neglect.
#7 EXCESSIVE FEAR AROUND CERTAIN EMPLOYEES
If a loved one is afraid of or acts fearful of a particular employee, this may be a sign of nursing home home abuse.
If you are concerned that a loved one is the victim of nursing home abuse or neglect in Montana, contact the Department of Public Health at https://dphhs.mt.gov/qad/qadcomplaint and the experienced nursing home abuse and neglect lawyers at Heenan & Cook.